New Ford F-150 Trucks in North Vernon, IN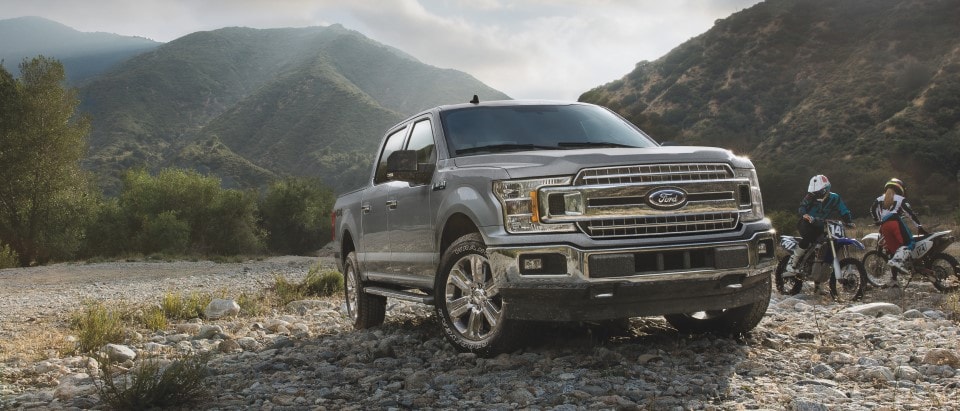 Buy Or Lease A New Ford F-150 In North Vernon, IN
Ford has designed what is considered its most durable pickup truck in its class for 2021. The new F-150 is designed to get maximum performance while balancing its look and appeal while being a workhorse. The truck is proven to be a powerful vehicle while being technologically savvy. Its aluminum-alloy body protects its passengers from any minor accidents due to its expertly crafted frame.
The F-150 can handle the daily grind to get any job done. Thus, the mantra of being "Ford Tough" has never meant more than what the new 2021 F-150 truck exhibits. So, if you've been looking around for the perfect truck to help out on the worksite, campsite, or just running errands around the Seymour area, it's time to give us a call to let us help you get into the new F-150 model that's perfect for you!
Performance
The 2021 F-150 is a leader in performance. It embraces the blacktop with its impressive power throughout its design. There are six engine options, which includes a one-of-a-kind 3.5-liter PowerBoost Full Hybrid V6 engine. The Full Hybrid V6 balances its performance with a combination of gas and electricity. Together, the engine and motor produce a robust 430 horsepower and 570 pound-feet of torque. There is no job around Greensburg too big or small for the F-150.
The 3.0 Power Stroke Turbo Diesel Engine has a maximum towing capacity of 12,100 pounds. It produces 250 horsepower with 440 pound-feet of torque. Also, Ford offers the 3.5L EcoBoost V6 engine that nets 400 horsepower and 500 pound-feet of torque. The 5.0liter TI-VCT V8 engine's infusion brings to light 400 horsepower with 410 pound-feet of torque, harnessing a maximum payload of 3,325 pounds.
The remaining engine sizes offered to Madison shoppers in the new F-150 include a 2.7-liter EcoBoost V6 engine and the 3.3-liter TI-VCT V6 engine.
Interior
The cabin offers the driver to observe the terrain and select the correct driving mode to get the most out of the passenger experience. The available modes include Normal, Eco, Sport, Tow/Haul, Slippery, Trail, Deep Snow/Sand, Mud/Ruts, and Rock/Crawl. Each mode is highlighted on the driver's side of the dashboard.
Overall, there is a six-passenger seating capacity. The available 12-inch touchscreen is mated with the SYNC® 4 technology. It has a split-screen capability that responds to voice and touch commands. Smartphone integration is available along with navigation and phone call compatibilities.
The Interior Work Surface allows a laptop to be utilized and documents to be reviewed and signed all within the cabin. When the F-150 is taking a break, you can rest with the max reclining leather seats that fold flat, allowing for a relaxing break. The interior features rear locking under-seat storage, which enables loose items to be out of sight.
What's New in 2021 for the F-150?
The F-150 has new for this year's model, the new onboard generator. Also, there is a more powerful 5.0-liter V8 and EcoBoost V6 engines. The body style has been upgraded with the infusion of a new infotainment system and technological enhancements. It also offers a new hybrid powertrain.
Get Your New Ford F-150 Near Columbus, IN
The new 2021 F-150 has broken the mold due to its power and performance. The work truck easily handles light duty and heavy workloads. Our team of associates at Garlitch Ford in North Vernon, IN have the doors open for you to climb in, touch, and experience what the new pickup has to offer. Call us today and let us show you how tough the new F-150 can be.
Garlitch Ford

2795 Highway 7
North Vernon, IN 47265